If you love soul music, then you undoubtedly already know the importance of STAX Records to its history. But there is no way to overstate how much this struggling mom and pop studio meant to millions of soul music fans through the years. It is, as much as Atlantic, Motown, Chess and Volt, the creator of a genre of music that has inspired, enlivened, transported, transmogrified and revolutionized the masses, giving their black (and white) audience a sense of cultural identity and empowerment during the tumultuous Civil Rights years in America.
Founded in Memphis, Tennessee in 1957 by brother and sister team, Jim Stewart and Estelle Axton (both white--which became very important later), Stax covered the Southern blues/soul/R and B movement, signing such raw talent as Booker T and the MGs (the first racially integrated studio bands to mirror the jazz bands of the 40s and 50s) David Porter and Isaac Hayes, Otis Redding,, Wilson Pickett, and Sam and Dave (both acts were later retrieved in a slimy, but totally legal, manner by their parent company Atlantic Records), making this diverse but likeminded group of performers the flag bearers of a down home, gutsy mirror sound to the then exploding Motown sound. Stax wasn't as polished, as big budget, as Motwon, but they provided a new and more militant identity in the late 60s and early 70s. More than that, they provided an international image when their artists found great success overseas.
After Stax's first big success with father and daughter team Rufus and Carla Thomas' "Cause I Love You" the company signed with Atlantic Records for distribution purposes. It seemed like the perfect partnership to help strengthen the black music movement across the country. But by the late 60s it had become a relationship Stax could no longer maintain, especially when during a routine contract renegotiation it was pointed out that Stax had signed over their complete back catalogue of hits to Atlantic from the beginning. When Stax decided to break from Atlantic Records, Sam and Dave were snatched back into Atlantic Records studios without warning, leaving the sole star, Otis Redding, to carry the weight of Stax's success on his shoulders.
Then tragedy struck in 67 when Otis Redding died in a plane crash, leaving them with no big name, no hits, and no new recordings.
During this uncertain time, marketing executive Al Bell was asked to head the company, although co-founder Jim Stewart stayed on board to help, and that's when Stax became more aggressive with its releases. And that's also when former songwriter Issac Hayes became an almost overnight success with the release of Hot Buttered Soul, a genre twisting album that influenced everything that came after it.
It was during these years that Stax's recording artists found the most success they would ever find again. It was also the coming of Black Moses, Hayes, as he became the first black recording artist to win an Academy Award for the 'Shaft' soundtrack. New artists were signed, including The Staples Singers and Johnnie Taylor, Stax was making movies (Shaft, Truck Turner, Three Tough Guys) for their black audience, even branching into new recording efforts with comedian Richard Pryor. Stax, in many ways, had overshadowed even the success of the mighty Motown.
In 1972, Stax did something most industry people thought was impossible, they gave what has essentially come to be known as the Black Woodstock- Wattstax. This music festival was an effort to offset the emotional and financial devastation caused by infamous Watts Riots and included some of the label's biggest names, Isaac Hayes, the Mar-Kays, Rufus Thomas, and others.
But despite this positive musical and racial moment in history, Stax spiralled into dissolution thanks to some funky money moving with their bank and the princely lifestyles of their artists, who were spending far more than they had yet earned on sales.
Within just months, Stax was bankrupt and being investigated by the feds. Now, some say this was racially motivated, that there were powers that be who wanted to push these new rich black folks back into the pit of poverty. That may be...but there was also some very sketchy money deals going on with Al Bell and the people handling Stax's money and investments. Perhaps it was a both of these things coming together at once that drove the powerful Stax company down into the mire.
When all as said and done, Stax was done. By 1989 the famous studio was torn down, leaving nothing but memories and a vacant lot where history had once stood.
Then in 1991, a complete box set of Stax recordings was released on CD. The release was met by millions by millions of happy fans and won several prestigious awards for sound quality and importance to music. The popularity of Stax brand of Southern fried soul music prompted a rebuilding of the Stax Studios on its original spot in 2003, which has now become The Stax Museum of American Soul Music. It's become a voice from the past to teach future generations the importance of honest, simple music that speaks from the soul.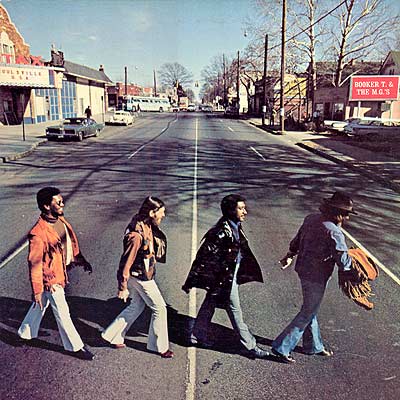 After all these years, you can still play something like 'These Arms of Mine' by Otis Redding or even a feel good hit like 'Green Onions' by Booker T and the MGs, and feel the power of real soul music, deep down in your bones. There's nothing like the sound of Sam and Dave's 'Soul Man' to bring you up when you're down.
That's the true power of soul music. It's human. It's the blues and the good times in one song. It's the voice of America. No cosmopolitan pretensions, unlike jazz's later years. It's true and right, real and honest. And maybe even more importantly, the Stax legacy is the work of both black and white creative forces for the enrichment of all mankind.
Visit
Soulsville, USA official web site
--Nickolas Cook